❤I'm autistic, artistic and love Kirby more than anything in the entire universe!!!❤
❤❤❤❤❤❤❤❤❤❤❤❤❤❤❤❤❤❤❤❤
I'm a happy employee of the Tulip House with Magolor and Marx!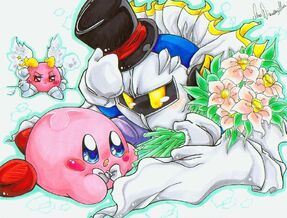 I write Kirby fanfiction and I love writing and drawing. My fanfics are going to be pretty epic; one takes place in the city of Daisy Petal inside the Lor Starcutter, another takes place in the Halberd, and another one involves Royal Acadededemy and Pupupuland!
❤❤❤❤❤❤❤❤❤❤❤❤❤❤❤❤❤❤❤❤
Head over to the Ultimate Kirby Fanfiction wiki to learn about it. Don't forget to stop by at my message wall to give me inspiration for writing stories, especially if you make up a new original character!come and like this profile
❤Some Awesome Wikis I've Invented; Please Join and I'll be very pleased!❤ Please make these wikis AWESOMER!❤Thank You!
Edit
Community content is available under
CC-BY-SA
unless otherwise noted.