WARNING!!! THIS SAWNEEK FORM IS NON-CANON!!! DON'T GET YOUR PINGAS IN A TWIST IF YOU GET TRIGGERED ABOUT IT!!!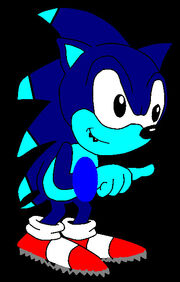 Crystal Sawneek is a non-canon form of Sawneek. He can teleport and throw crystals at people with his fingers. He also has all of Sawneek's regular abilities, and is incredibly durable from being made out of pure crystal. It is unknown how this form was created, nor the true extent of its power, because it's non-canon to the Sanic Universe and lot of theoretical information about it contradicts itself.
Powers And Abilities
Edit
Crystal Power: Instead of lightning, Crystal Sawneek shoots crystals out of his fingers.
Durability: Sawneek is incredibly durable, as his body is made out of the purest crystal. As such, he can survive even the most powerful atom bomb without being hurt at all. However, his once legendary speed has now been cut in half.
Crystal Ball: Sawneek rolls up into a ball and dashes at the opponent, similar to base form Sawneek's Meme Dash attack.
Crystal Magic Arts: Crystal Sawneek is apparently a master at an unknown form of ninjitsu known as the 'Crystal Magic Arts.' This ninjitsu involves Crystal Sawneek making secret finger symbols that can unleash powerful special attacks at his enemies.
Crystal Shards: Crystal Sawneek can also hurl crystal shards from his fur. If the opponent gets hit in the pingas, it will hurt. A lot.
Crystal Bite: Crystal Sawneek bites the opponent with his sharpe teeth, doing great damage. If the opponent is bitten 7 times, they will turn into a crystal.
Crystal Sawneek is the only canon or non-canon Sawneek forms who has anything to do with crystals.
Crystal Sawneek is also the only Sawneek form who can use ninjitsu besides Ninja Sawneek. This is supposedly so he isn't weak as hell.
Crystal Sawneek is one of the best-designed fan-made Sawneek forms ever created.
Community content is available under
CC-BY-SA
unless otherwise noted.